Strawberry Limeade.. Could be me favorite drink, I love the version at a fast food drive-up chain, and wanted to figure out how to make it myself. Raspberry Lemonade, is a close second!
For Spring parties such as bridal showers and summer cookouts with friends, I love to make a batch of each and label the pitchers. I also float Strawberries and Lime slices in the Limeade pitcher and Raspberries and Lemon Slices in the other, Not only is it pretty, it pretty much "labels" itself! I always bring in empty pitchers and requests for the recipes!
Jan's Tip: Want to make it "Sparkling"? Just substitute 2 Liters of club soda or sparkling water chilled for the cold water in the recipe!
Here's how I make them!
To Make Raspberry Lemonade: I am listing the ingredients for the Strawberry Limeade. Just
substitute Lemonade for the Limeade and Raspberries for the Strawberries in the recipe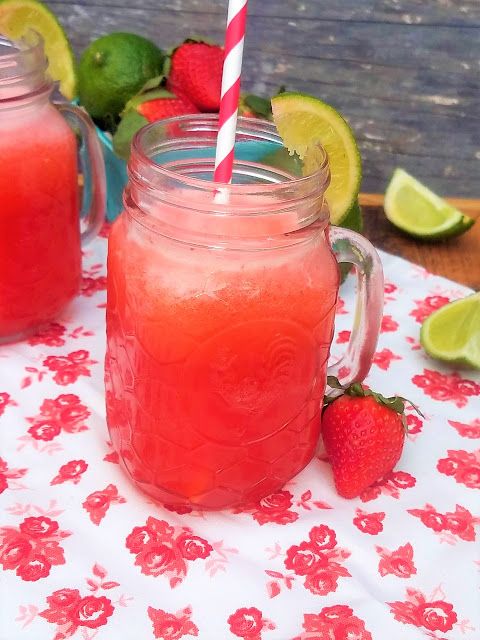 Strawberry Limeade & Raspberry Lemonade
This version is similar to a famous drive up car hop chain, but you can make it yourself anytime!
Ingredients
2 (12 oz) cans

frozen limeade concentrate

2 (10 oz.) pkg's

frozen strawberries partially thawed OR 3 cups fresh strawberries (raspberries =1 pint)

1/2-3/4 cup

Sugar

2 quarts (8 cups)

cold water
Instructions
In blender, combine limeade concentrate, strawberries and 1/2 cup of the sugar.
Cover and process until blended.
If using raspberries, strain through fine mesh strainer to remove seeds if desired.
Pour mixture in a 4 quart container.
Add in water and mix well.
Taste and decide if want to stir in additional 1/4 cup of sugar to your taste.
Add add'l sugar if desired, and stir well till sugar dissolved.
Add ice cubes and serve immediately OR put in refrigerator to chill till serving.
Details
Yield:

3 1/3 quarts