To go along with the original Master Hamburger Mix which is for batch cooking pre-cooked hamburger, I usually take a few extra minutes to make the uncooked hamburger mix, which is great for meatloaf, hamburger patties, and meatballs.
I usually purchase enough to make 2 meat loafs, a dozen or so hamburger patties and sometimes a batch of meatballs, (although I admit to being a Sams Club meatball cheater!).
While my precooked hamburger mix is cooking in the oven in pans, I use this time to assemble my uncooked mix.
For meatloaf you can either
1) Put them in disposable aluminum bread pans and wrap tightly with foil,
2) You can free form them on a foil lined counter and wrap them tightly to be baked later in a cake pan,
3) The third method, is to drape foil over your metal or glass baking dish with enough foil hanging over the sides to cover the meat loaf later. Freezer meatloaf in your pan. When frozen lift meatloaf and foil out of pan, wrap with the extra foil and put meatloaf back in freezer, so that it will pop back into the pan later when you are ready to cook it.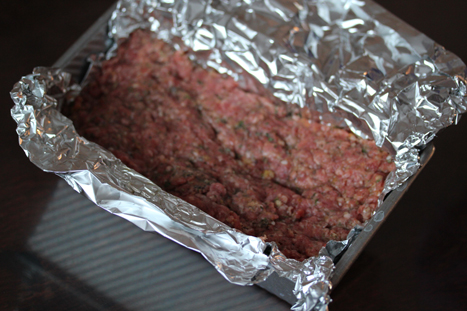 To get you started here is the link to the North Dakota State University Extension Service printout:
NDSU: Basic Meat Mix 2 (uncooked)
Here it is for you:
Basic Meat Mix II
(Uncooked)
¾ c. nonfat dry milk
1 c. uncooked quick oats
1 c. tomato juice
½ c. chopped onion
1 tsp. salt
¼ tsp. pepper
2 lb. ground meat
1. In a large bowl, mix together dry milk powder and
oatmeal. Add tomato juice; mix well.
2. Add onion, salt, pepper and ground meat.
3. Shape into hamburger patties (put wax paper between
patties), meatballs or meatloaf before freezing.
Per 4-ounce serving: 131 calories, 8.4g carbohydrate, 3.5g fat,
0.8g fiber and 296mg sodium
To make a meatloaf
1. Defrost Basic Meat Mix II
meatloaf in refrigerator
overnight.
2. Top with tomato sauce or
ketchup.
3. Bake at 350 F for 45 minutes
to an internal temperature of
at least 165 F.
To make meatballs
1. Defrost Basic Meat Mix II in
refrigerator overnight.
2. Shape into balls if not already
made.
3. Cook in medium skillet over
medium heat for 10 minutes
or until they reach an internal
temperature of 165 F. You also
can cook the recipe in an oven
at 350 F for 30 minutes.
4. To save time, you can
freeze leftovers in meal-size
containers.
To make
Salisbury steaks
1. Defrost Basic Meat Mix II
patties in refrigerator overnight.
2. In a medium skillet over
medium heat, cook to an
internal temperature of 165 F.
3. Top with cream soup or gravy