Disclaimer: I have been provided with products for recipe development and a great prize package for my readers as part of
#
AppleWeek
. All opinions are my own.
Combining the wonderful taste of fall apples in a classic apple butter with the creaminess of cream cheese, creates the most amazing spread for your bread and bagels.
No need to go buy those expensive store bought flavored cream cheese spreads at the bagel store or the grocery store! You have a block of cream cheese most likely in your fridge so go ahead and make your own yummy spread!
You'll find it delicious on french toast , English muffins, and so much more!
Jan's Tip: This recipe makes for a "thinner" cream cheese spread. If you want to make it a thicker spread, add more cream cheese, but it will reduce the "apple" flavor just a bit. You can compensate for that some by bumping up the spices just a bit more. Both versions are wonderful! I prefer the thinner, more "apple" flavor! .. It's fantastic with Pumpkin Butter also!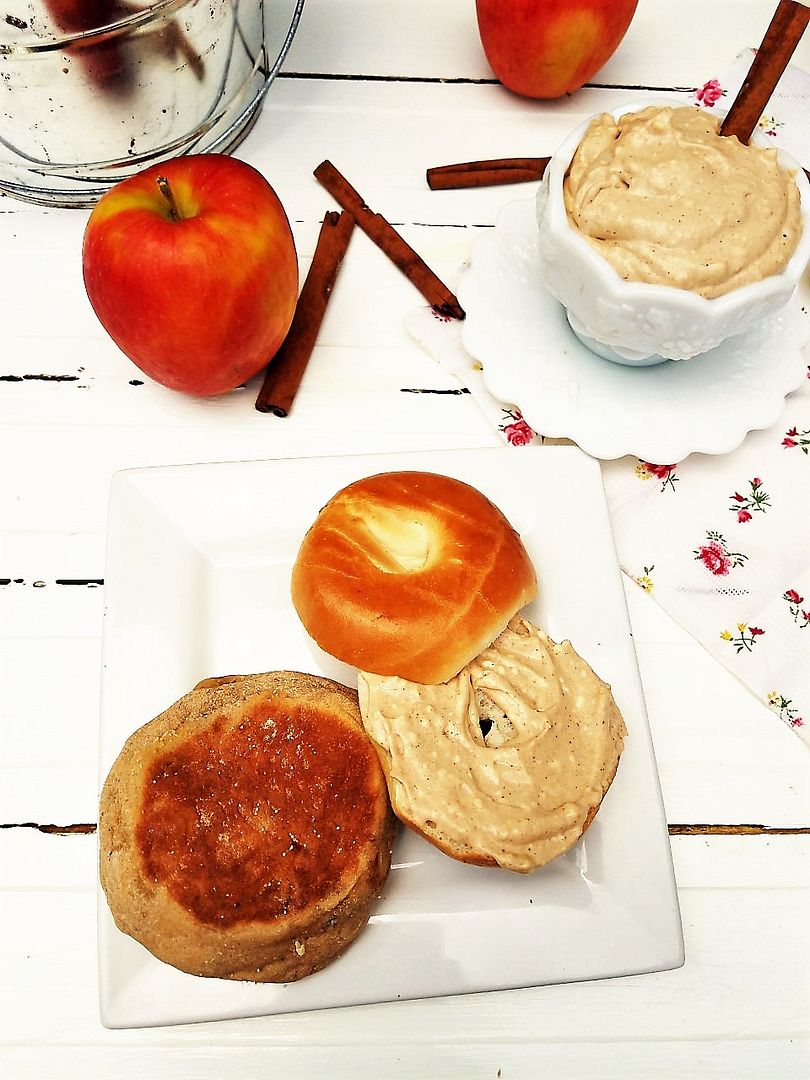 Apple Butter Cream Cheese Spread
Ingredients
8 oz. block

Cream Cheese -Softened

3/4 cup

Apple Butter

1 teaspon

Cinnamon

1/4 teaspoon

Nutmeg`

1 Tablespoon

honey
Instructions
Mix together all ingredients in mixer until cream cheese is well blended.
Store in air tight container, in refrigerator.
Serve on bread, rolls, muffins, bagels.
Yield:

2 Cups
Don't forget to sign up for the great Prize pack #Giveaway from our amazing #Sponsors!
The link to enter the giveaway is below. The prize pack has gotten so big and long, I'll send you back to our welcome post to check out the full list of prizes, if you didn't see them earlier in the week!
a Rafflecopter giveaway


Thursday's Recipe's
Apple Butter Cream Cheese Spread
from Tip Garden
Apple Cinnamon Roll Pie
from Corn, Beans, Pigs and Kids
Apple Macaron with Peanut Butter Buttercream Filling
from A Kitchen Hoor's Adventures
Apple Maple Jam
from Feeding Big
Apple Yeast Coffee Cake
from Jolene's Recipe Journal
Grilled Apple Butter Pork Tenderloin
from Books n' Cooks
Grilled Veggie Tacos with Apple Salsa
from Culinary Adventures with Camilla
Honeycrisp and Gouda Grilled Cheese
from The Redhead Baker
Italian Apple and Fig Polenta Torta
from All That's Jas
Meatloaf with Apple BBQ Sauce
from Palatable Pastime
Molasses-Mustard Glazed Pork Chops with Apple Butter
from Sew You Think You Can Cook
Roasted Brussel Sprouts with Bacon and Apples
from House of Nash Eats
Roasted Pork with Apple Puree
from Simple and Savory
Savory Apple Bacon Pizza
from Cooking With Carlee
Slow Cooker Honey Apple Pork Roast
From Amy's Cooking Adventures


Wednesday's Recipes:
Apple Almond Butter Manchengo Grilled Cheese
from A Kitchen Hoor's Adventures
Apple Banana Quick Bread
from Palatable Pastime
Apple BBQ Meatballs over Brown Rice
from Tip Garden
Apple Butterscotch Crumb Cake
from The Crumby Kitchen
Apple Cider Donuts
from 4 Sons 'R' Us
Apple Coffee Cake
from Bear & Bug Eats
Apple & Fig Flatbread with Goat Cheese
from Simple and Savory
Apple Oatmeal Breakfast Bars
from Hezzi-D's Books and Cooks
Apple & Sausage Stuffing
from Girl Abroad
Apple Pie with Oat Crumble Crust
from The Redhead Baker
Braised Pork Roast with Apples
from A Day in the Life on the Farm
Caramelized Apple Hand Pies
from Jolene's Recipe Journal
Caramel Frosted Apple Quick Bread
from The Chef Next Door
Cheesy Apple and Brie Pull Apart Bread
from Family Around the Table
Crunchy Apple BBQ Pork
from The Freshman Cook
Easy Fried Apples With Cinnamon
from Feeding Big
Fresh Apple Dinner Salad
from Cooking With Carlee
Lamb Lolipops with Apple Herb Chutney
from Culinary Adventures with Camilla
Roasted Beet and Apple Salad
from Amy's Cooking Adventures
Skillet Pork Chops with Apples and Onions
from Grumpy's Honeybunch
Slow Cooker Baked Apples
from Jonesin' for Taste
Sweet and Sauer Apple Cabbage Salad
from All That's Jas
Tuesday's Recipes:
Apple Almond Chicken Salad
from Books n' Cooks
Apple Bacon Jam
from Corn, Beans, Pigs and Kids
Apple Cheddar Sausage Baked Oatmeal
from A Kitchen Hoor's Adventures
Apple Cinnamon Rolls
from Sew You Think You Can Cook
Apple Fritter Pie
from Dad What's 4 Dinner
Apple Nachos
from Simple and Savory
Apple Turnovers
from A Day in the Life on the Farm
Applesauce Cake with Soft Caramel Cream Cheese Frosting
from Cooking With Carlee
Autumn Apple Sipper
from Culinary Adventures with Camilla
Bavarian Apple Oatmeal Streusel Cheesecake
from All That's Jas
Caramel Apple Cupcakes
from Amy's Cooking Adventures
Cider Brined Chicken
from Palatable Pastime
Grilled Apple Tossed Salad
from Jolene's Recipe Journal
Mini Apple Muffins with Oatmeal Streusel Topping
from Family Around the Table
Nutmeg Apple Conserve
from Feeding Big
Sauerkraut & Sausage with Apples
from House of Nash Eats
Monday's Recipes:
Apple Brickle Mini Tarts with Oatmeal Crust
from The Freshman Cook
Apple Cinnamon Baked Oatmeal
from Amy's Cooking Adventures
Apple Cobbler French Toast Casserole
from Tip Garden
Apple Crisp Stuffed French Toast
from Jolene's Recipe Journal
Apple Fritter Yeast Bread
from House of Nash Eats
Apple Oatmeal Coffee Mug Cake
from Corn, Beans, Pigs and Kids
Apple Pecan Chicken Salad
from The Chef Next Door
Apple Pie Steel Cut Oatmeal
from Cooking With Carlee